Know Everything about Pre-Employment Tests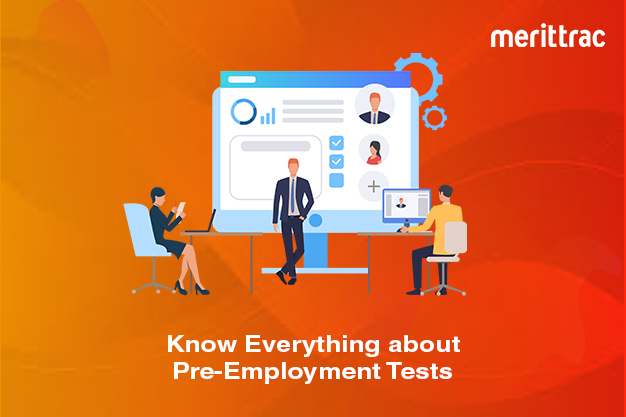 Pre-employment tests are a smart way to evaluate candidates during the recruitment process. With the help of methodical pre-employment tests, recruiters can understand if a candidate is suitable for a particular job role.
Depending upon the type of test conducted during the hiring process, one can find out about the candidate's ability and skills. This helps an organisation to make the right choice while recruiting manpower. Therefore different types of pre-employment tests are conducted such as aptitude tests, skill tests, cognitive assessment tests and others.
Common Pre-Employment Tests Conducted
Skill Tests– It is imperative to test the soft skills and hard skills of a candidate before they are recruited. Employers need to make sure that the candidate is adept in the communication skills, computer skills and other necessary skills required for the concerned job position. For instance, before hiring a PR manager, the employer will test if candidates can handle presentations, create computerised charts and write suitable content within a short span. Candidates need to demonstrate their skills during assessment if they want employers to hire them.
Cognitive Tests– This is one of the major tests conducted by most organisations before hiring candidates. This test helps recruiters to assess the mental capacity of a person to work in a specific job position. General aptitude tests or pre-employment aptitude test is the widely popular cognitive test that evaluates a candidate's logical reasoning, verbal and numerical approach to problem-solving.
Personality & Behavioural Test– The personality of a candidate is very important for a business organisation. It determines a healthy work culture and more productivity. The personality test is a type of pre-employment assessment test that evaluates a candidate in terms of their team spirit, management ability, thinking capacity, decision-making skills and other areas. The major personality tests conducted by employers are:
The Myers-Briggs Test.
The Caliper Profile.
The Hogan Personality Inventory.
The DiSCBehavioral Inventory.
Emotional Intelligence Tests– Through emotional intelligence tests employers evaluate management and leadership skills. One must be emotionally balanced to work in a job environment and should be fit for the position applied for. There are few scientific methods that can analyse the emotional aspect of candidates. The emotional intelligence tests can identify if a candidate can work in a team environment and adapt to any work pressure and challenging environment. Both team spirit and adaptability are the two important sides of any successful job role.
Moreover, these tests also assess the empathy of a candidate. One must be compassionate and kind to be able to work with others.
The necessity of Pre-employment Tests 
The various reasons why pre-employment tests are conducted are:
Pre-employment tests are designed in such a way that speeds up the recruitment process in choosing the right candidate. One does not need to sort through different resumes. The recruitment process becomes easy and reliable.
Learning about an applicant's knowledge for a particular job role is essential. The skill possessed by the chosen candidate must match the required skills of a given job description. This is where pre-employment tests simplify the hiring process. Employers can easily hire the right person through necessary tests.
Now you can experience hassle-free recruitment assessment and find the right candidate. Whether it is an aptitude test or communicative assessment, the right software can reduce long procedures. With the help of MeritTrac platforms, you can conduct various tests suitable for employees of a business organisation.