Upgrade Your Home Office With These 8 Tips!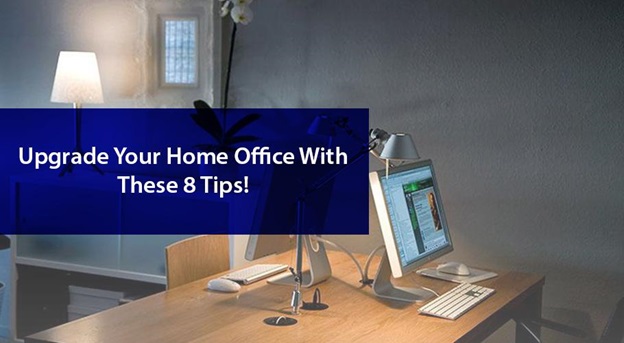 If there is anything more complicated than staying productive at work, It is staying productive while working from home. In such difficult times, staying motivated all the time is a huge challenge. And the worse thing about staying indoors 24/7 is managing personal and professional work from a single location.
Staying indoors has taught us to cherish every phase of our lives while we're at it. And going to work was one of them. Not only does the work environment push us to focus more, but we also have our privacy and comfort while working, which is a huge plus point! With that said, working from home is not the same. With a million distractions at home and no perfect work environment, it's challenging to focus on work.
Having a properly set up home office is mandatory to stay motivated and focused while working from home. Read ahead to learn how you can upgrade your home office in the fastest and easiest ways possible!
Store Your Hardware On The Wall
One of the most effective ways to make space on your desk is by hanging the hardware on the wall. Buy some wall hooks from a hardware store and store your computer gadgets on them, such as speakers, cables, Wi-Fi device, or any huge office supplies.  For your ease, buy compact and portable IT gadgets that are space-saving, lightweight, and easy to carry.
When it comes to high internet speed, you need more than just a super-secure internet provider.  A powerful yet compact router is the way to go when you're working from home. You don't want the cables and devices to occupy a lot of space, which is why AT&T home internet services offer super strong internet connectivity through its range of compatible routers and modems. They're compact, portable, and reliable.
Create Extra Storage Space
Another way of de-cluttering your space from all that mess is by adding some extra storage space nearby. A small storage basket, drawer, or shelves are some great ways to add extra storage space for your stuff. These spaces can be used to safely keep your notebooks, journals, or other office files in place. Staying organized is useful in clearing the mind from stress as well.
Position Your Speakers Properly
Working from home means online conference calls and meetings almost every other day. The last thing you want is to miss out on important discussions because the volume level was low, or there was a lot of static noise, or the speakers were too far away for you to hear the other end.
Instead of constantly managing the volume level, moving the speakers every minute, or buying new ones, just position them on a flat surface where they are at ear level. Do a sound test to make sure the volume level and distance work fine for you.
Add More Light
The lighting in your office or room makes all the difference in the world. Do you know that light has a direct effect on our moods? Not only will bad light cause eye strain, but it can be super boring and depressing to work in. Over time, you will regret not changing your lights from the beginning.
Take care of this before you officially start working from home. Low light conditions are depressing, eye-straining, and strenuous.
Invest in good lighting or buy a new lamp with enough light that lits up the room well enough and ensures you can see clearly. You can also place your desk near the window, allowing some natural light to come in.
Add A Pop Of Color In The Room
Colors have the power to change tones, moods, and vibes. Boring and bland colors such as grey or beige drain the room's energy, eventually changing your mood and productivity. Working from home is taking a huge toll on your creativity and productivity. To make sure you stay motivated and productive, add a pop of color in the room to promote creativity and aesthetics.
Unless you feel relaxed and comfortable, you can't feel motivated to work. Colorful office supplies, colorful stationery, accented furniture, bright paintings, or new paint on the walls are some ways you can transform your workplace to look creative and cool!
Find A Comfortable Chair
As said before, unless you're comfortable, you can't stay motivated. Maintaining your posture is not only important for your health, but it also helps you sit in the same position for hours. A comfortable chair allows that. An ergonomic and comfortable office chair is all you need to make sure you're in the most relaxed position while working. It offers lumbar support, body alignment, and adequate armrest support for your elbows.
Invest in a good office chair to work for hours comfortably.
Transform Your Desk
Besides the laptop, printer, mouse, and speakers, you must be able to reach other elements on your desks without moving your body. Your desk should be spacious enough to store the essential things in your reach.
Make sure to put stationery and stuff you frequently use on the desk, such as your planner, calendar, calculator, and pens. Things you don't use that often must be stored away on the shelves or baskets.
Ensure your monitor is at eye level to avoid hunches, eye strain, and back pain. If you're using a laptop, make sure it's positioned on an elevated surface to keep your back and neck straight.
Organize Your Thoughts
To record your ideas and thoughts while working, keep a whiteboard nearby. Not only can you instantly jot down everything on your mind before forgetting, but the whiteboard serves as a great reminder as well. It helps you organize random thoughts and ideas in a certain order.
Every time you sit down to work, a single glance at your whiteboard will remind you of tasks and goals to achieve. It's an essential tool that simplifies working from home.
The Bottom Line
Staying motivated in such times is difficult, but a home office upgrade can surely help with that. Follow these tips and upgrade your home office to boost your creativity and motivation while working from home!
Baldwin Jackson is a successful digital marketer with expertise in search engine optimization and content marketing. The perfect balance of his analytical ability and creative thinking is what sets him apart from other practitioners in the digital marketing realm. He has helped a lot of small and medium-sized businesses in crafting their digital marketing strategies that are not only cost-effective but delivers results as well.
Baldwin is also a proud father of two kids and a Sports enthusiast. When he is not working, you will find him watching ESPN and NFL network. He has been able to get an amazing package on his favorite channels from Buytvinternetphone.com.